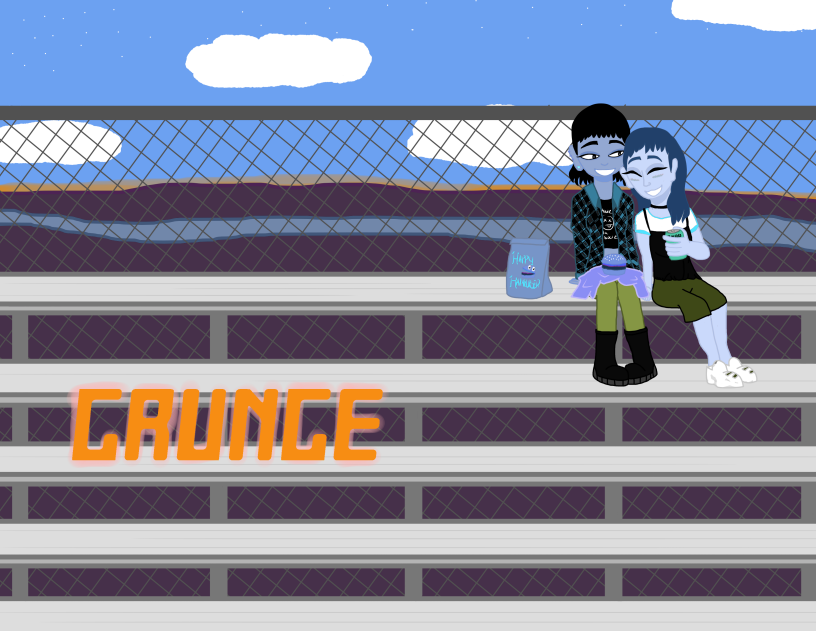 Grunge
A downloadable game for Windows and macOS
SILVER MEDAL AWARD WINNER - MELBOURNE QUEER GAMES FESTIVAL 2019

In the fall of 1990, 14 year old Seraphina "Seri" Baum moves to Golden City, North Carolina to start a new life with her newly divorced mother. Seri's not too excited about starting high school, and as she trudges through her day being harassed by bullies, she thinks that NOTHING is going to get better.
But then Seri meets Carmen Rosales, an intellectual and confident loner, and she feels something that she's never felt before. It's both enthralling and terrifying. Slowly, as time passes, Carmen becomes the most important person in her life.
But can Seri keep Carmen in her life even if she doesn't share the same feelings? What other things threaten their possibilities of a happily-ever-after?
WHY PLAY GRUNGE?

LGBT protagonist and teammates 🏳️‍🌈
Lesbian romance at heart of story! 😘
Easy turn based combat system 😎
Over 100 quests that impact ending AND characters' futures 😃
Secret storylines to unlock 🤔
Free (suggested donation, but yeah it's free)💲
DETAILS ON GAME

The final game is over 10+ hours long, although may be shorter/longer depending on how you play. The game for the most part uses RPGMaker MV assets, but I did use some of my artwork as well in the expressions and stills. Additional plugins and music have been used in this game. These individuals and their projects have been credited at the end of the game.
NOTE TO LETSPLAYERS

There is copyrighted music in this game. If you're making a video using Grunge's audio, you'll want to make sure that the music is off.
CONTENT WARNING

This game is meant for ages 16 and older. There is a LOT of swearing, violence, drug use and references, some sexual content and discussion, depression, and mentions of suicide. Please be aware of these things as you play the game.
FEEDBACK? REPORT BUGS? TROUBLE PLAYING GAME?

You can visit the Community Discussion Board to get quest help and learn more about the game's development.
If you have a bug, PLEASE report it in the Troubleshoot/Bug Report thread. You must include a screenshot of the bug and mention what you were doing and what chapter you were in so that I can pinpoint exactly what went wrong and where. If you don't include a screenshot, the report will be ignored.
CREDITS

Christian Castro Romero - Spanish Language Consultant
Robin Harper - Playtester
Sabrina Doeden - Playtester
Chien Nguyen - Playtester
Download
Click download now to get access to the following files:
GrungeNarrativeMap.pdf
98 kB